Blog
The hydrocopter VURR of the Environmental Board received a GPS device from Navirec
05/04/2023

A new and interesting "toy" was added to the working tools of the Estonian Environmental Board – the hydrocopter named VURR! It is a true hybrid vehicle that allows officers to drive on land, in shallow water such as river estuaries and rocky coasts, as well as on ice and slush. We can proudly say that a Navirec GPS tracking device was installed on this awesome helicopter.
The hydrocopter helps save lives and improve surveillance
The Environmental Board is responsible for maintaining and preserving wildlife and the environment and, among other things, supervises fishing. Searching for and catching poachers is carried out, and if necessary, fishermen who get into trouble on water bodies or on ice are rushed to help. Such responsible work in very different environments requires not only good skills and knowledge but also modern work tools.
According to Raio Piiroja, who has been manufacturing hydrocopters for many years, VURR is the most powerful vehicle to date, with a top speed of 100 km/h in water and can develop even higher speeds on ice (Pärnu Postimees, 2023). VURR will be mainly used in Pärnu County and it is a vehicle that can be used to reach areas that could otherwise only be reached by helicopter – for example, to reach fishermen in need of help. In this way, officials can also improve surveillance where it was difficult to access by boat or vehicle.
Navirec's GPS device helps track the VURR
A few weeks ago, a Navirec GPS device was installed on the VURR, which now allows monitoring of both its exact location and technical indicators. It was an exciting project for the Navirec team, as it is not every day to install a tracking device on such vehicles. But for our skilled technicians, it was a new and interesting challenge that was successfully solved. Everything works perfectly and the logisticians of the Environmental Board can now monitor all the parameters of interest in the Navirec solution.

The ability of GPS tracking has long gone beyond just determining the location of a vehicle, although it is also extremely important for environmental officers to do their work, considering that a large part of the work is done in areas where there are no conventional landmarks and addresses. In Navirec's solution, officials can also see a lot of different technical data of the hydrocopter, such as fuel consumption and remaining fuel in the tank, engine revolutions, and working hours, it is possible to see the data of the auto-filling logbook and much more.
Navirec's area solution allows environmental officials to easily map and gather, for example, poachers' favorite places, locations of prohibited fishing gear, and much more in a single solution. Also, the ability to play back the driving history allows one to quickly identify areas that have already been combed in situations where, for example, fishermen in distress are being searched for.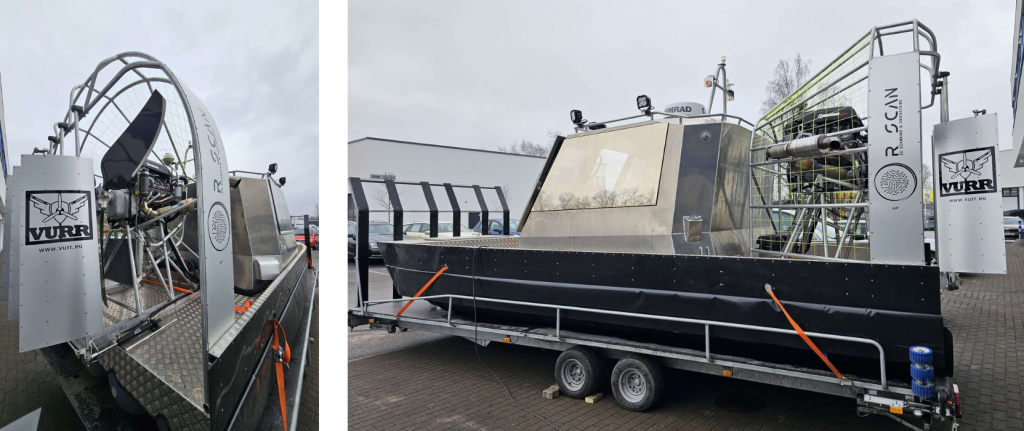 As a fairly new solution, Navirec offers a digital vehicle inspection form that can be customized by each customer based on their exact needs. The digital form can be combined with various questions and multiple-choice answers, as well as the possibility of adding images. In this way, every driver who starts working with a vehicle can quickly note down errors and problems found during a routine check in the Navirec mobile app before starting to drive and transfer them to the general system with one push of a button. This allows you to always keep an eye on the condition of the vehicles and to determine the time when problems occur.
As you can see, GPS devices can be installed on a wide variety of vehicles and work equipment. We wish VURR a long life and many successful working hours!