Contactless home delivery

Creating a contactless home delivery service for your business is a breeze with smart software
Contactless home delivery for any company
Due to the global emergency, e-commerce is gaining traction particularly fast. People are increasingly staying at home, but still, need a variety of basic and other goods for everyday life.
You can arrange the home delivery of your goods easily and without contact using the existing workforce

Create a contactless ordering environment
To sell your goods, you can create an online environment from which to receive orders and payments via bank links.
Creating an online store is very simple, and there are many companies offering it.
Arrange a contactless home delivery service
This can be done with the help of  GSMtasks last mile delivery software, which turns online store orders into tasks for your couriers.
You can deliver the goods to the customer contactless and safely!
Even if you don't have your own e-shop, you can create tasks for your drivers in the GSMtasks solution and transport the goods quickly
How does contactless home delivery work?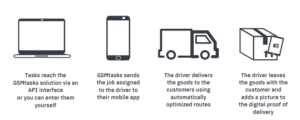 Keep your employees and customers healthy and set up your contactless home delivery service in minutes