Blog
Courier management software – Overcoming your logistics nightmare
01/04/2020
Effectively organized logistics plays an essential role in a successful business; however, it takes much work to keep up with the always-changing customer demands and outperform your competitors.
As e-commerce keeps flourishing, logistics managers find it harder to ensure optimum results, so courier management software has become a necessity to simplify complex business processes.
The software helps provide flexibility and transparency in the transportation industry that today's customers expect.
Post summary
Six daily issues that logistics managers face
Why courier management software?
How software automation overcome these logistical nightmares

Six daily concerns faced by logistics managers
The daily routine of logistics managers is anything but easy.
These multi-tasking professionals deal with a broad spectrum of responsibilities from managing fuel costs to finding shorter routes and optimizing fleet assets.
However, with today's dynamic customer demands and complex business models, logistics managers are facing increasing challenges to create effective and efficient logistics methods.
For big and small fleets, the issues shared are quite similar and typical for most logistics managers.
Although the list is not endless, here are the six common problems faced by the industry:
1. Transportation cost control
The management of transport costs is perhaps one of the biggest challenges for logistics managers yet is also one of the critical parts of ensuring an efficient company operation.
Fuel is undoubtedly one of the highest costs in transportation, and its' price rise increases surcharges added to freight rates plus impacts drivers' earnings.
2. Staff shortage
A qualified and motivated staff is the backbone of any company.
As the world is seeing a significant deficit of licensed truck drivers, logistics managers have to consider how to keep up with rising customer demand. The need to optimize staff and delivery routes is more significant than ever, and it doesn't show signs of decline.

3. Optimizing fleet assets use
The bigger the company, the bigger the fleet they might have.
While that might be a good thing, it can also facilitate problems, as a vast fleet requires a higher degree more management.
Logistics managers working for large companies have a lot more work on their hands keeping track of all vehicles and making sure they are utilized as much as possible.
4. Dealing with government and environmental regulations
Different regulations and rules imposed by federal and local authorities limit our actions and decisions every day. Logistics staff need also comply with these, plus environmental issues like emission reduction regulations.
Today, there is enormous pressure on companies to reduce their carbon footprint with not only more economical vehicle use yet reducing paper clutter with document management.
5. Customer service
As the rise of customer expectations continues, satisfying clients becomes harder by the minute and pushes logistics to seek new opportunities to better their customer service.
Nowadays, it's not only about delivering the right product at the right time; people want full logistics transparency, meaning that the shipment has to be visible until the endpoint.
6. Information amount
The amount of data that logistics managers have to deal with can be very intimidating as they not only have to control route mapping and optimization, but also fuel bills, driver safety, and fleet loads.
Doing logistics manually is both time-consuming and monotonous; with attention to detail suffering as a result leading to diminishing quality of work.

Courier optimization & management software benefits
Whether your business big or small, managing your couriers can be a complicated task, as multiple factors must be considered to provide customers with the best possible service.
It's essential to transform your courier business to keep up with the competition plus improve the profitability of your business, and the answer is a simple-to-use and cost-efficient technology solution.
Courier management software is a web-based system that empowers logistics managers to automate all tasks that otherwise would be done manually.
Human errors are inevitable; however, digital software ensures higher accuracy in operations, provides you with valuable data about the entire transportation process allowing you to improve your whole supply chain management.
Here are some advantages of courier management software:
1. Optimize delivery routes automatically
Not only will you improve customer satisfaction with reduced shipment delivery times, but you will also spend less money on fuel and vehicle maintenance. Not to mention the time saved by not manually planning every single route.
2. Increase end-to-end visibility
GPS-tracking and real-time updates provide logistics managers and office staff a complete overview of every occurrence in the field during the day.
It's an effortless way to control if your drivers are following optimal routes and like time spent with a customer on the road, loading, or unloading goods. Live notifications allow managers to re-plan routes if a driver is stuck in traffic or has a vehicle malfunction, and might be running late.
Customers will appreciate the possibility to check the status and location of their delivery through the last mile.
3. Make logistics process paperless
More and more logistics firms are going paperless with the aid of courier management software, handling their delivery operations of maintaining records, e-signing, and all their bill generations online, and it's not hard to see why.
It's evident that paperless document management saves office space, but it will also help businesses improve their overall corporate image as a company that does their part in conserving the environment.
Electronic proof of delivery contributes to more accurate records and faster communication between your workforce. Digital logs also allow finding documents easier and keep your client information secure in a web-based server.
4. Collect complete order information
Data is everything when it comes to running a professional and resulting business. With courier management software, the collection of accurate real-time information will be more accessible than ever.
Your staff will have a complete overview of:
parcels delivered 
the date and time of delivery 
time spent on transport 
delays online 
ready to be analyzed when needed
This will not only allow businesses to better plan their storage but also make changes to delivery management that boosts their customer satisfaction rates.
5. Provide better service to clients
Providing the user with the ability to manage multiple drop-off points efficiently, courier management software helps drive transportation companies customer service with timely deliveries.
Drivers are equipped with a map and the fastest route to the client, plus any additional information about the delivery point that might be useful for locating it.
Furthermore, the software allows sending real-time notifications to clients about their upcoming delivery so that they can plan their time better or change the delivery time to suit them.
How to overcome your logistics nightmare with software automation
To begin using GSMtasks, enter the tasks for your courier:
requested date
service
parcel type
delivery or pick up address
other client information or additional notes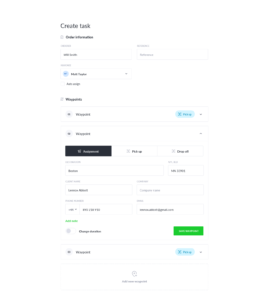 You can even add documents to the task like an electronic proof of delivery (ePOD) that can be signed digitally by the client.
Tasks can then be imported to your GSMtasks account and assigned to available drivers. This can be done manually by using our easy drag-and-drop interface or letting the software automatically distribute tasks between drivers while optimizing the routes and jobs for the most optimal delivery time.
Automatic task assignment and route optimization will help you kill two birds with one stone, as your drivers will use the GSMtasks navigation interface on their mobile phone to take the fastest and shortest route, using less fuel and saving vehicles from premature wear and tear.
If you operate a big fleet, every saved kilometer will help you cut transportation costs and significantly save you money.
As mentioned above, staff shortage affects logistics businesses all over the world. If licensed workers are hard to find, fleet optimization and increasing workers' efficiency is a must. Automated delivery optimization helps drivers deliver parcels faster so more tasks can be completed each day.
Every driver can see their daily task assignments on their phone as a list or on the map with the planned route. They have to accept the task and start delivering!
The status of the functions can be viewed on the dashboard for the office staff as well so that they will always have an overview of what's happening in the field and can take action if things don't go as planned.
An automated notification with an HTML tracking link and the estimated arrival time will be sent to the client via SMS or e-mail when the courier starts moving their way, so they can plan their day accordingly and be present at the time of the arrival.
Customers value these real-time interactions and help businesses boost their client satisfaction rates immensely.
Read more about how software automation helps exceed customer expectations
When the courier has reached their destination, they have to capture the client's signature on the ePOD and update the delivery status on the app to "completed."
GSM Tasks will automatically provide your customers and office staff digital delivery documentation by e-mail so drivers need not carry around paper documents, or worry about bringing them back to the office. Additionally, this contributes to less paper waste; invoicing can be done much quicker as well.
Thanks to real-time information updates like driving time or time spent on completing a task received from the GSMtasks app, data analysis will be more accessible than ever. GSMtasks allows users to track the metrics they need and use the information to enhance the business processes.

Think about how much time could be saved if an automated system provided you with easy-to-understand graphs instead of having to calculate all the figures yourself?
Automatically collected data is also more accurate, so your decisions based on it will get a better result in return.
So, professional courier management software can help businesses address all the main logistics issues in one go. Before choosing a software provider, it's imperative to identify all the areas that need improvement and pick out the solution that is user-friendly and will help fulfill business objectives.
Our team is happy to advise you if you want to get a better picture of how GSMtasks courier management software could help you overcome your logistics problems, so feel free to get in touch with us via the green chat bubble on our homepage.
This article was originally published on GSMtasks blog on 2019/09/13